CORPORATE WINE EVENTS
(ONSITE / VIRTUAL)​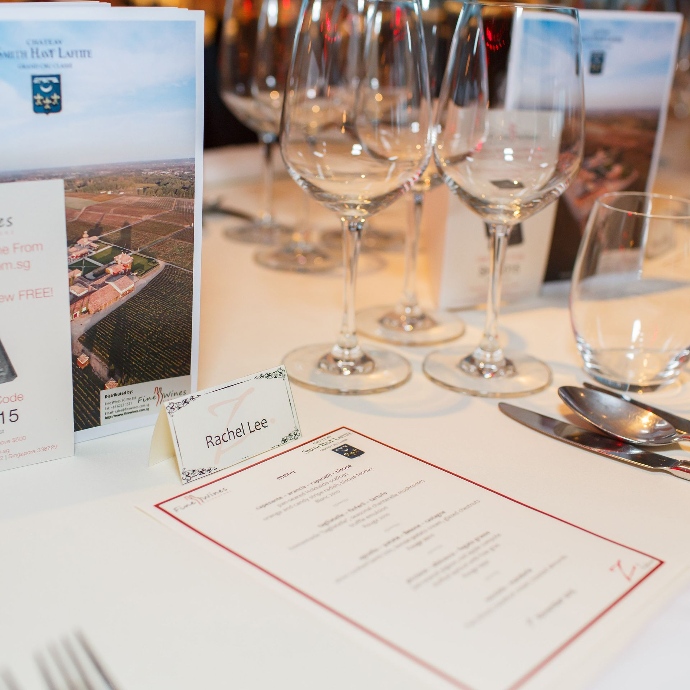 SEARCHING FOR AN INNOVATIVE IDEA FOR YOUR NEXT CORPORATE EVENT?

Excite them with a wine tasting! No one will want to miss this event and we are sure you a have full turn up rate! Treat your guests with the high quality Grand Cru Classe wines and make a lasting impression for your corporate event!
Not sure where to go about sourcing for wine?


In need of wine expertise?


Need help with wine glass, decanter and all necessary wine accessories?
At Fine Wines SG, we have the perfect solution! Just sit back and relax while we cover your wine event from start to the end!
FUN GUARANTEED!
WINES ENERGIZE YOUR AUDIENCE AND…
WE HELP POUR THE FUN BACK INTO WINE!
Fine Wines SG has a range of wine appreciation packages designed for corporate entertainment, internal team or company events!
Whether as a "Thank You" to your customers or just have fun with colleagues, your guests will leave this event feeling warm and cozy all over –
with wine as a focal point to bring on such fantastic great time!
WHY FINE WINES SG?
Many event or catering companies may mark up their wines or serve the lowest priced wines to meet your tight budget.
Here at Fine Wines SG, we are a fine wines distributor in Singapore and getting wines directly from us will mean that you not only
save but at the same time get the best quality wines at the fraction of the price.
WE TAILOR EXCITING CORPORATE WINE EVENTS FOR:
1. Onsite/Virtual Wine Tastings in Singapore and Asia Pacific.
2. Entertain your high spending prospects.
3. Treat your guests to a sky dining or yacht experience
4. Excellent for team building
5. Novel office celebration or relaxation after a tough pitch
6. The perfect way to break the ice with your clients, impress them!
7. A reward to your team
8. Creative way to attract potential group buyers
9. Wine appreciation class for corporate level
10. Fun relaxing class to "wine" down their stress
11. Or even if you need wines to grace your product launch, car show to opening house!!
12. We can also conduct the wine event in Mandarin & Japanese too
HERE ARE SOME CLIENTS THAT WE WORKED WITH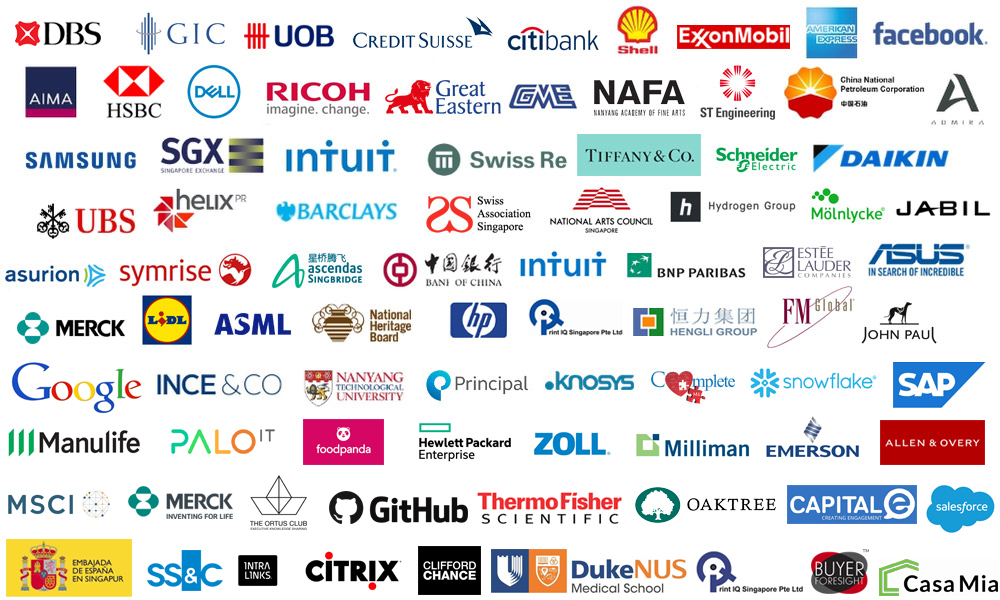 OUR AMAZING TESTIMONIALS
We pride ourselves on building positive experiences for all our clients. Read below to hear what they have to say about us!
We have in house wine experts who have great experience in handling corporate event with extraordinary great wines that need not break your bank!
The event was a success, our clients "thank us" for thanking them. Great job Fine Wines SG!
---
Laura Katie Arthur - SAP Concur
Private tasting event arranged with Fine Wines SG. Entertaining and educational.
---
Stephen Sunderland - L.E.K. Consulting
Our CEO commented he could continue hearing your wine presentation for another 2 hours....
---
Click below to view all our fantastic 5 Star reviews.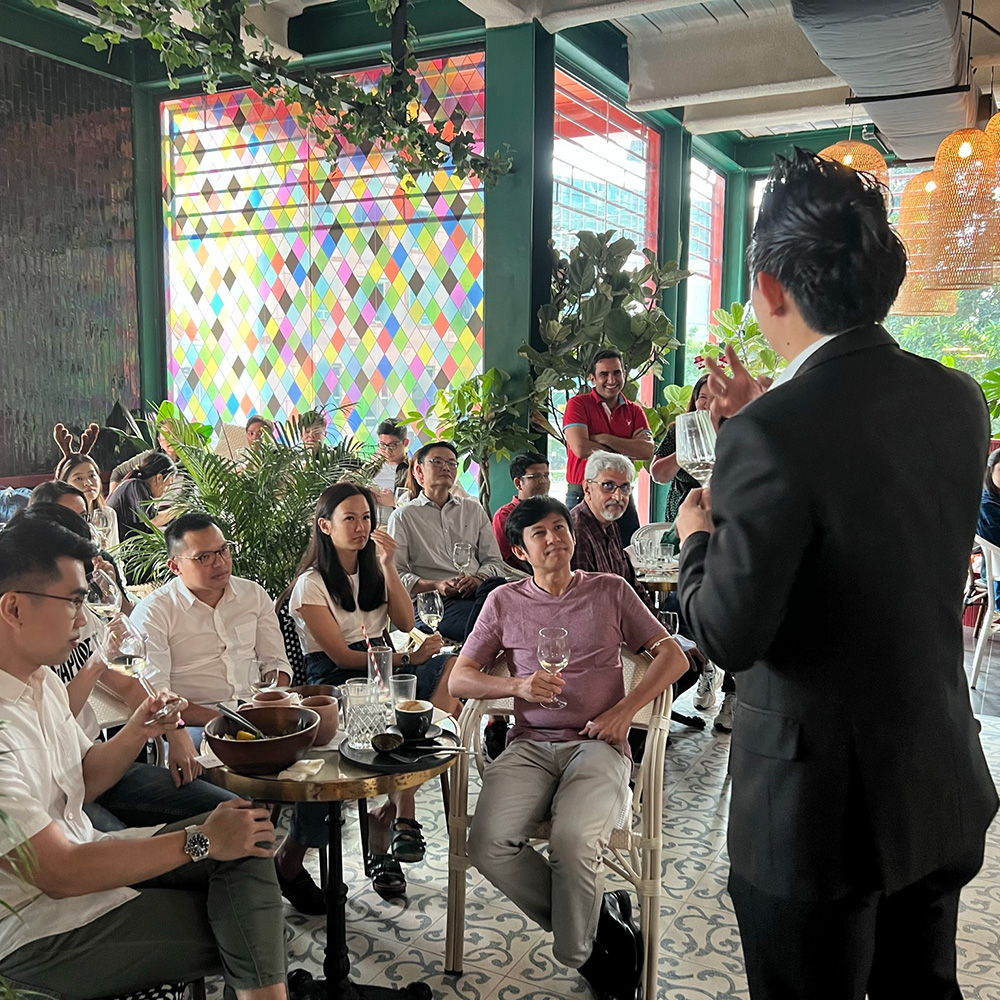 LOTS OF FUN TASTING, LAUGHTER OVER WINE!
Usually done in blind tasting format, we engage your nose and open up your palate; blind tasting promises so much laughter enabling you to learn even faster!


We help your corporate staff to bond over wine, help them discover interesting pairing and promote team building through wine lessons!

We will help max out your event entertainment meter!


There is no better way to absorb the expert's note better than drinking and learning at the same time! We will cover the basic of wine terminology and show you how to pick out aromas and help you develop your taste and smell skill.

To install this Web App in your iPhone/iPad press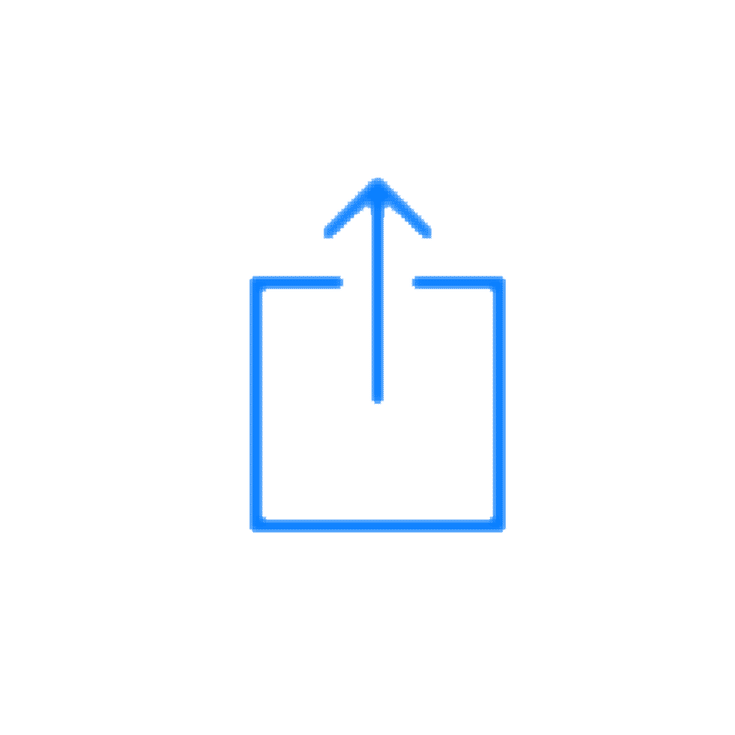 and then Add to Home Screen.